Bard, Google's generative AI, has become an even more personalized and adaptable tool.
Bard now integrates with Google Apps and services, enabling more useful answers. Additionally, existing features have been improved and availability expanded to more locations.

One of the main advantages of Bard is its ability to tailor its responses to your specific needs. For example, you can ask Bard to start a trip planning document for you and your friends, write a list for your online store, or help explain a science topic to your children. And now, Bard has gotten even better at customizing his responses so you can easily bring your ideas to life.
New Bard Features


1. Connect to Google Apps and services
Google launched Bard Extensions in English, a new way to interact and collaborate with Bard. With Extensions, Bard can find and show you relevant information from the Google tools you use every day, like Gmail, Docs, Drive, Google Maps, YouTube, and Google Flights and Hotels. Even when you need information that is found in multiple applications and services.
For example, if you're planning a trip to the Grand Canyon (a project that requires many open tabs), you can now ask Bard to pull dates that work for everyone from Gmail, find real-time information on flights and hotels, see directions from Google Maps to the airport and even watch YouTube videos about things to do there, all within one conversation!
Or imagine you're applying for a new job and using Bard to help you through the process. You could ask Bard to "find my resume titled June 2023 in my Drive and summarize it in a short self-introduction paragraph" and continue collaborating on your new cover letter.
Google is committed to protecting your personal information. If you choose to use Workspace extensions, your Gmail, Docs, and Drive content won't be seen by human reviewers, used by Bard to show you ads, or used to train the Bard model. And of course, you always have control of your privacy settings to decide how you want to use these extensions, and you can disable them at any time.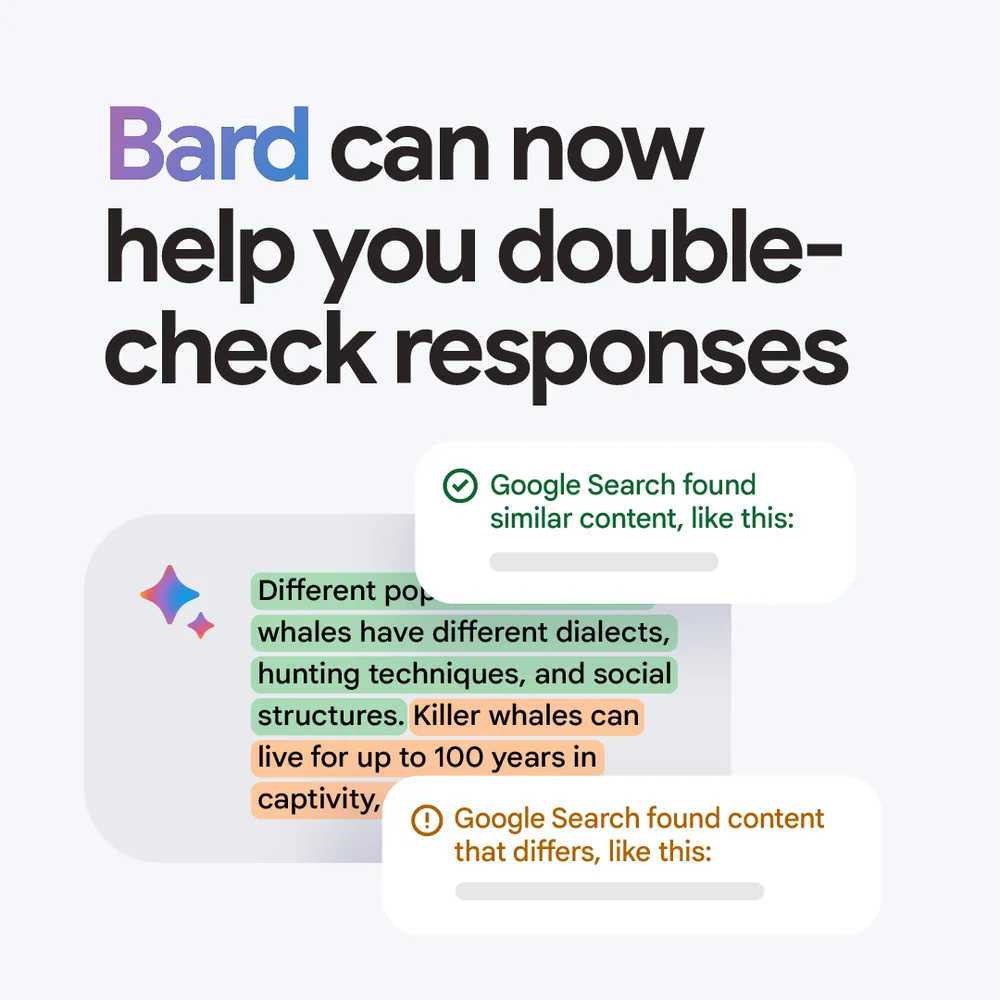 2. Easy response checks and shared conversation creation
Starting today, in English answers, you can use Bard's "Google it" button to more easily check his answers. By clicking the "G" icon, Bard will read the response and evaluate if there is content on the web to support it. When a claim can be evaluated, you can click on the highlighted phrases and learn more about corroborating or contradictory information found by Search.
They are also facilitating the continuation of conversations with Bard initiated by others. Starting today, when someone shares a Bard chat with you via a public link, you can continue the conversation and ask Bard additional questions about that topic or use it as a starting point to generate your own ideas.
3. Access to features in more places
As Bard continues to develop responsibly, Google has now expanded access to existing features in English, such as the ability to upload images with Lens, get searchable images in answers, and modify Bard answers, to more than 40 languages.
With all of these new features, Bard is better equipped to help you bring all your unique ideas to life. Try the latest features at bard.google.com and discover how Bard can transform collaboration and creativity in your life.
Related