In the exciting world of video games, Boti: Byteland Overclocked stands out for combining the nostalgia of classic platform games with a modern experience full of challenges.
History
Boti: Byteland Overclocked immerses us in the fascinating world of Byteland, a digital kingdom invaded by a mysterious threat. Our intrepid protagonist, Boats, becomes the last hope to save this colorful universe from corruption. The story unfolds as we explore the various worlds of Byteland, overcoming obstacles and facing increasingly powerful enemies. Along with Boti, we are accompanied by various characters, who will add depth to the narrative.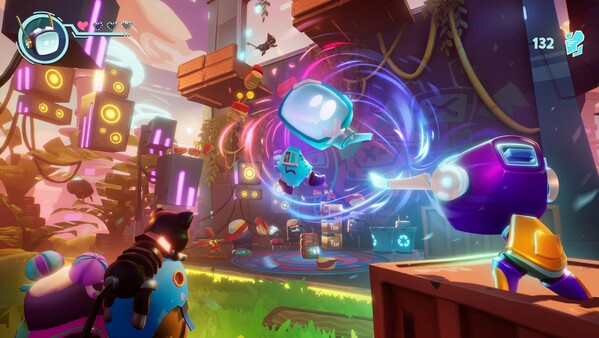 Game mode
Inspired by classics like Super Mario 64 o Astro's Playroom, the game combines traditional platform elements with modern and creative touches. From gliding through the skies to sliding and surprising combos, each stage presents unexpected challenges that will keep you in constant action. Additionally, the inclusion of additional content, such as skins and music tracks, encourages exploration and the improvement of the central Hub enriches the experience.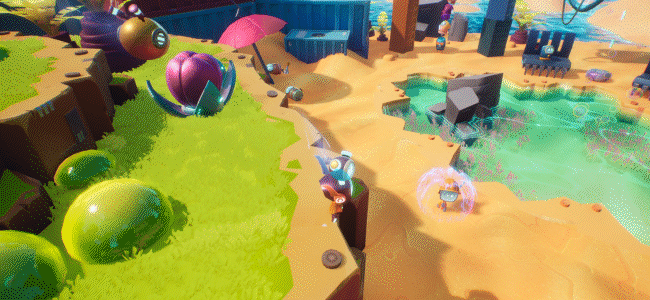 Characters
The title features a range of memorable characters that add life and humor to the game. Boats, brave and determined, leads the cast, accompanied by the charming floating binary robots, Zero and One, who offer funny and sharp dialogue that enriches the narrative. Despite their apparent simplicity, these characters leave a lasting impression on players.
Challenges
Boti: Byteland Overclocked offers a wide range of challenges, from jumping over obstacles to solving intricate puzzles and defeating fearsome enemies. Difficulty varies to accommodate both novice and experienced players. Plus, thorough exploration is rewarded with hidden items and rewards, guaranteeing hours of fun and rewarding discoveries.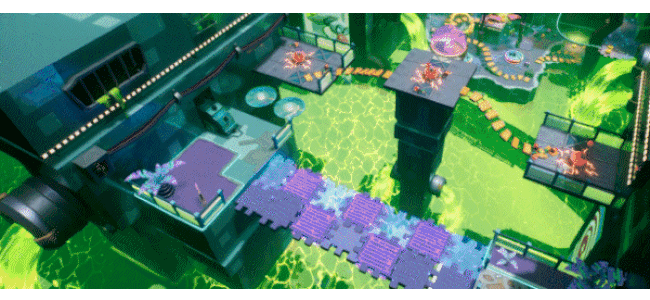 Graphics and sound
Boti: Byteland Overclocked It presents a visual design that overflows with joy and vitality. Its settings are impregnated with bright and neon colors that provide a touch of unmatched fun. The characters, led by the charismatic Boti, integrate harmoniously into this universe, as if they had come out of a charming cartoon. The graphics, although they do not seek to be revolutionary, stand out for their solid artistic direction, which manages to transport players to a digital world full of life.
As for the sound section, electronic music is interspersed with sounds that evoke the environment of a working computer, immersing players in the feeling of being immersed in a virtual world. The sound design is top-notch, and especially stands out when players unlock special abilities,
Comparisons with other games
The title shares notable similarities with several classic platform games. Its gameplay is reminiscent of iconic titles like "Super Mario Bros.", where players control Boti in a world full of jumps and challenges. Additionally, exploring and collecting power-ups evokes the feeling of "Sonic the Hedgehog", while the variety of enemies and obstacles presents similarities with "Crash Bandicoot". Nevertheless, Boti: Byteland Overclocked stands out by bringing its own unique touch, immersing players in a digital world and offering an immersive electronic soundtrack.
Conclusion
Boti: Byteland Overclocked It is a vibrant gaming experience that combines the classic with the contemporary. Although it does not seek to revolutionize the platform genre, it fulfills its goal of providing fun and accessibility to players of all skill levels. Although it has its ups and downs, its undeniable charm and nostalgic gameplay make it a game that deserves the attention of video game lovers.
Pros:
Vibrant and modern graphics.
Immersive electronic soundtrack.
Challenging and rewarding gameplay.
Contras:
Some puzzles can be very difficult.
Game duration may be short for some players.
Minimum requirements
64-bit processor and operating system.
Operating system: Windows 10.
Procesador: Intel Core i5-7500 // AMD Ryzen 5 3600.
Memory RAM: 8 GB.
Graphics card: Nvidia GTX 1660ti // AMD RX 580.
DirectX: Version 11.
Available storage space: 20 GB.
Sound card: DirectX compatible.
The game will be available in Steam starting September 15, 2023
Related