Foneazy MockGo is innovative software that allows changing and simulating the location of the GPS on devices iOS.
With a Interface Simple and intuitive, MockGo offers an easy way to trick geolocation apps in you iPhone or iPad.
In recent years, applications that use geolocation services have become very popular. From dating apps and social networks, to transportation services and augmented reality games. However, on some occasions it may be useful to change or simulate our location for reasons of privacy or simple curiosity. This is where it comes in Foneazy MockGoa tool that allows us to modify the GPS location reported by our iOS device in order to fool these applications.
Use cases
Foneazy MockGo it can be very useful in a variety of situations. For example:
Privacy & Security: If you don't want to share your real location in certain apps, you can use MockGo to provide a fake location.
Access to geo-restricted content: Some services are only available in certain countries. With MockGo you can change your GPS to access this content from anywhere.
App tests: Developers can test how their apps work in different locations without traveling.
Games with geolocation: Augmented reality games like Pokemon Go can be enjoyed more by changing the location to places with more activity within the game.
Installation guide
Install and configure MockGo It's very simple. You just have to follow these steps:
Connect your iPhone or iPad to PC with a USB cable.
open the app Foneazy MockGo and grant the necessary permissions.
In the main interface, click "Center" and select the location you want to simulate.
Finally, click "Start" to apply the fake location and fool your device's GPS.
That's all! In a few seconds you will be able to fool the GPS of your iPhone or iPad with the desired location.
Interface
The main screen consists of a central map that occupies most of the interface. This interactive map shows your current location obtained from your iPhone's actual GPS, indicated by a blue marker. The map is fully functional and allows you to freely zoom in, zoom out and move around to find any location.
In the upper left corner is the "Center" button. This is a round blue button that, when clicked, displays a menu with different options to establish a new central location on the map.
The options in the "Center" dropdown menu are:
Preloaded locations: Shows a submenu with names of popular cities like Paris, London, Madrid, New York, etc. Just pick one and the blue marker on the map will move to that location.
Enter coordinates: Here you can manually type the latitude and longitude coordinates if you already know them. For example, to dial the Eiffel Tower, just enter Lat: 48.8583701, Lng: 2.2922926.
Choose on the map: Returns to the main map so that you can click anywhere on the map and set that spot as the new hub location by moving the blue marker to that spot.
In the upper right corner is the "Start" button, which is round and green. Clicking this button activates GPS spoofing so that the iPhone starts reporting the location marked on the map instead of the actual one.
Below the map is the "Simulate Route" bar. Here you can plan a route that the simulated GPS will follow step by step. You just have to click on the + button to add points on the map where you want to trace the route. When you start the simulation with the Start button, the simulated GPS will move dynamically through each point of the route.
In the lower left corner are the "Speed" and "Altitude" controls. In Speed ​​you can enter the speed at which the simulated GPS will move in m/s. For example, to simulate a walk, set a low value like 2 m/s. In Altitude you enter the elevation in meters above sea level that the spoofed GPS will report.
Finally, in the lower right corner is the "Multiple Devices" option. This function is only available in the paid version of MockGo, and allows you to connect up to 5 iPhones or iPads at the same time to spoof the GPS of all of them with the same location simultaneously.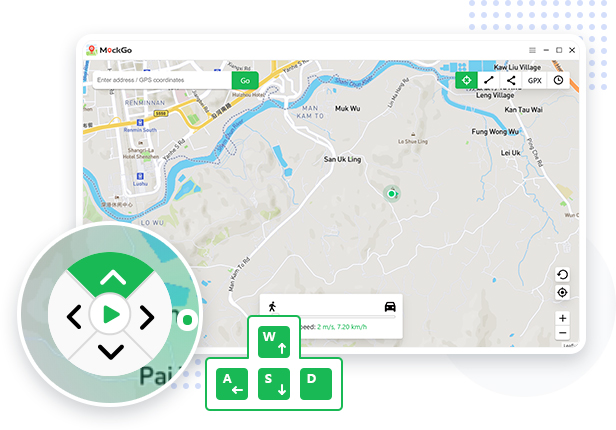 Principal functions
Foneazy MockGo puts at your disposal several options to modify the location of your GPS:
Default locations: Choose from popular locations like New York or London.
Enter coordinates: If you know the latitude and longitude coordinates, enter them manually.
Map: Search and select any point on the map to set a custom location.
simulation path: Create a punctual route with several stops to simulate a journey.
Speed ​​and altitude: Adjusts the speed of travel and height above sea level.
multiple mode: Simulate location on multiple iOS devices at the same time
Conclusion
Foneazy MockGo is a great alternative if you need to change or fake the GPS location on your iPhone or iPad for any reason. Its simple and intuitive interface makes it accessible to any user, from novice to expert. In addition, it offers advanced options for a more accurate and realistic simulation.
Whether it is for privacy, access to limited content, or just for fun, this tool is the ideal choice to alter iPhone GPS.
Pros
Easy to use and install
intuitive interface
Preloaded and coordinate locations
Map for visual searches
Creation of simulation routes
Speed ​​and height adjustments
free version available
24/7 support (paid version)
Contras
Only available for iOS
Free version limited to one device
You must connect the iPhone by USB cable
Versions and prices
Foneazy MockGoock It is available in both free and paid version.
The free version allows you to change location on a single iOS device with basic features. The paid version unlocks advanced features like multi mode, simulation routes, speed and height adjustments, GPX file import, and priority support.
The prices are:
Mensual: $9.99 USD
Trimestral: $19.95 USD
Annual: $39.99 USD
Lifetime: $79.99 USD
Undoubtedly, the paid version is an excellent investment for those who need to use the advanced features of MockGo on multiple devices.
Related